Solar-powered car ports could represent a sustainable path into charging the influx of electric vehicles. 
Solisco CEO Parveen Begum, 28, has been recognised on the Forbes 30 under 30 (Europe) list for the Manufacturing and Industry sectors. 
A former employee at Tesla UK, she launched the firm in 2016 in partnership with mechanical engineer Mark Maurice. 
It now offers both commercial and domestic EV-ports and independent clean-energy consultancy services for customers across the UK and overseas.  
"Mark and I founded Solisco just four years ago with a clear ambition to drive the future of sustainable electromobility both here in the UK and overseas, therefore supporting the global green agenda," said Begum. 
"One of the common barriers preventing EV uptake is the perceived lack of charging infrastructure as well as unreliability of such technology.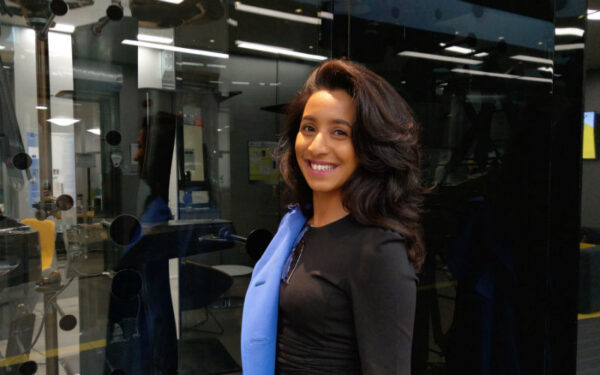 "We wanted to introduce confidence within users to invest in an EV as their next vehicle, and at the same time, we wanted to inspire change within the industry so that charging can be a subject of careful consultancy and planning, so that ease of use, futureproofing and renewable energy generation are all being considered.  
"Our mission is to significantly contribute to EV charging infrastructure in a cleverly engineered way. It's an ecosystem and unless we get it right, the problems we face today will continue. 
"To have been recognised and listed by Forbes 30 under 30 for Manufacturing and Industry is just incredible, and aside from achieving one of my long-term career goals, this will hopefully increase awareness of our work and commitment to supporting more businesses looking to drive their clean-energy agenda."  
The Solisco EV-Port is a solar carport that enables users to park and sustainably charge their Electric Vehicle, by using solar photovoltaic [PV] modules that are used to convert sunlight into electricity. 
Ideal for residential and commercial settings like the carparks of retail outlets, universities, leisure facilities and large corporations, the Solisco EV-Ports can transform ordinary carparks into innovative energy hubs, whilst reducing CO2 output and the increasing demand on the electricity grid.  
Despite the challenges presented by COVID-19, the current pandemic has accelerated the urgency to drive new and sustainable energy solutions across the globe, where Solisco plans to play a pivotal role in ensuring the shift from petrol and diesel to electric vehicles remains as 'clean' as possible. 
Begum explained: "The COVID-19 pandemic has truly highlighted the importance of driving and implementing global sustainable energy solutions, as confirmed by the World Health Organisations [WHO].  
"Although Electric Vehicles significantly reduce emissions, they still require power from the grid to work, which over time will become stretched. Solisco has worked with leading manufacturers and suppliers to develop a sophisticated EV-port solution to overcome this, harnessing the power of the sun and utilising battery storage and smart charging functionality so that everyone can enjoy the true freedom of driving an EV without any compromises." 
Solisco has worked multiple organisations worldwide and is headquartered at the E-Innovation Business and Technology Centre in Telford, just a couple of miles away from the birthplace of Thomas Parker, the inventor of the world's first electric vehicle. 
EVs
Green
Transport