Retail
A Manchester start-up has launched a first-of-its-kind eCommerce site that turns industrial spare parts into opportunity. 
Machine Compare's marketplace launches in a time where supply chains are under major pressure and there are growing fears that the chip shortage will last well into 2022 and beyond.  
Now, instead of destroying millions of valuable materials found in mechanical and electrical spare parts, such parts can be kept in circulation, saving an exponential amount of carbon emissions. 
The firm claims the scrapping of industrial spare parts, including batteries and semiconductors, is a £5 billion problem. 
"Each year an average medium-sized manufacturer with a site portfolio of 150+ will send around £100,000 worth of spare parts to scrap per site," said CEO Ben Findlay.  
"This wasteful and expensive practice is because there is no suitable outlet to sell these unused spare parts on, as well as the belief within manufacturers that purchasing newer, similar or even the same models is how they should operate."   
Over the past four years, Machine Compare discovered that industrial manufacturers were purchasing millions of spare parts each year with the intention they'll be used within operations. To their horror, they also discovered that when they're not used, they're typically scrapped, causing grave consequences to the environment.  
To help reduce mitigate this problem, Machine Compare has built an Amazon-style environment that means stock can be sold on to buyers.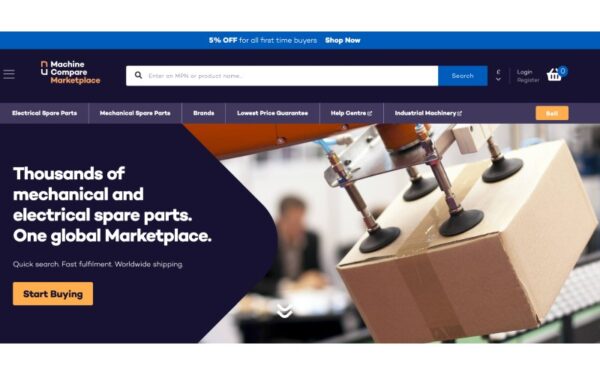 By adopting a circular business model, Machine Compare is not only responding to the clear demand for these parts, but simultaneously reducing carbon footprints and lead times, as well as allowing buyers to access lower priced parts and enabling sellers to generate new revenue streams by turning surplus stock into capital.  
More than 22 multi-national manufacturers have partnered with Machine Compare to sell their surplus inventory, including DS Smith, Stora Enso, JBS, Ülker and UCIC. The number of individual brands, including spare part manufacturers and sector-specific OEMs, on the website is now more than 350.  
Alex Jennings, Group Chief Procurement Officer at DS Smith, commented: "The circular economy is an intrinsic part of our business model and as a result, the refurbishment of equipment and reuse of materials is a critical consideration for our global operations.  
"We want to see products and materials kept in use for as long as possible and support the wider manufacturing industry to reduce its need for landfill.  
"By partnering with new, circular platforms like the Machine Compare Marketplace to support this process, we have been able to release capital and create significant improvements in operational efficiencies, proving this concept to be both sustainable and profitable."