Vital signs observation is a very complex area and a key part of the 'chain of prevention' to avoid deterioration, cardiac arrest and death. Except for those staying in intensive care wards however, not all patients are adequately monitored.
In hospitals, even high dependency patients may fail to receive the necessary intensive monitoring due to a range of factors including lack of suitable beds and nursing resource. Patients in general wards are monitored at long (up to 8 hourly) intervals during which time the patient's status could change significantly. Such infrequent monitoring makes it difficult to identify trends which act as early indicators of a potential decline in the patient's condition.
A digital "blanket" for patients
Isansys Lifecare is a leading, global digital health company which has developed the Patient Status Engine (PSE), an advanced remote patient monitoring platform combining wearable sensors, wireless connectivity, predictive AI analytics, dashboards and alerting for hospital, home and community settings. The PSE presents a complete end-to-end, fully certified Class IIa CE-marked and class II FDA certified medical device which uses wireless body-worn sensors to automatically collect and analyse vital signs continuously and in real-time using proprietary algorithms. This data is then streamed via a patient gateway network and delivered to the nurses' station or remotely to clinicians.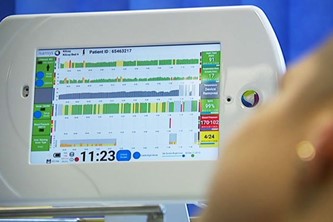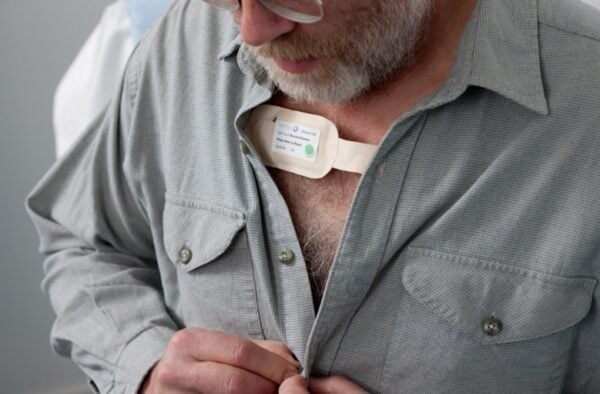 The PSE replaces wired bedside monitors, integrates with EMRs, and automates the most basic process of healthcare – knowing the patient's physiological status at all times – past, present and future. Enabling improved care through wearable technology, it wraps the patient in a digital "blanket", streamlining patient observations and enabling the early detection of deterioration in patients, improving care, clinical performance and patient safety.  With adequate warning of adverse events, clinicians can intervene more quickly and confidently, and patient outcomes can be improved.
International clinical recognition
Isansys is keen to roll out its pioneering technology across the globe and is fast receiving global recognition.  Recently named as one of the UK's top digital health exporters and one of the top 20 Medtech companies in the country, Isansys is working with healthcare organisations in Great Britain, Germany, Norway, Denmark, India, Singapore and the USA.
A study carried out by the clinical team at Cohen Children's Medical Center in New York in 2020 has revealed the use of the Patient Status Engine could aid detection of newborns at risk of the early onset of sepsis (EOS) faster than current practice. Read the full results from the paper here.
A world-leading study by a clinical team at Birmingham Women's and Children's NHS Foundation Trust concluded that the use of the PSE and a first-of-its-kind predictive indicator can aid detection of deterioration of paediatric patients significantly earlier than their current early warning scoring method. If adopted at scale, the PSE could potentially save hundreds of young lives.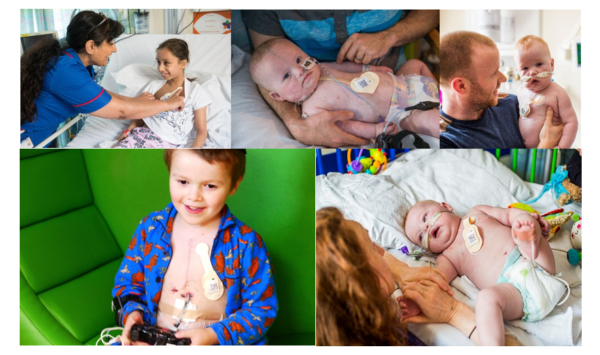 The study, the Real-time Adaptive Predictive Indicator of Deterioration (RAPID) project, monitored nearly 1,000 young in-patients ranging in age from newborns to 16 years in Birmingham, England in 2016 – 2019 using the Isansys Patient Status Engine (PSE) to develop the RAPID Index, a personalised predicative algorithm or smart alarm that runs in the PSE. The clinical research team then compared the RAPID Index to their current Paediatric Early Warning Scores (PEWS) in a retrospective analysis.
The team discovered that the RAPID Index could detect significant deterioration more frequently and earlier than the PEWS score. Earlier work in the study had revealed that wireless monitoring offers a more comfortable solution and is preferred by families and patients.
In a recent interview, Dr Heather Duncan, intensive care consultant at Birmingham Children's Hospital, and principal investigator and clinical lead on the RAPID project, spoke about her plans to fully deploy the PSE throughout the hospital. In the second phase of the project more than 10,000 young patients will be monitored in this way, setting a new care standard for children in hospitals everywhere.
Watch the full interview here:
The surge in Covid-19 patients in Greater Manchester provided the opportunity for two UK hospitals to deploy the PSE to enable clinicians to identify and predict deteriorating patients faster and with less nurse-to-patient contact. To ensure critical care beds are available for only the sickest Covid-19 patients, The Christie NHS Foundation Trust and the Manchester University NHS Foundation Trust (MFT) are using the PSE to monitor Covid-19 patients both in hospital and at home.
Professor John Radford, director of research at The Christie, who is leading the RECAP project which is monitoring patients recovering at home with the PSE, said:
"The technology offers us a way of keeping a close eye on our patients while they're at home. We hope the PSE will help us detect when a cancer patient with COVID-19 is deteriorating and needs to be reviewed in hospital. This is the first time this technology has been used for patients who aren't in hospital in the UK, so it's truly innovative, and if successful, could be used in other areas of medicine."
To learn more about Isansys and the PSE please visit www.isansys.com
To read more about the benefits of the Patient Status Engine please refer to the NICE Medtech Innovation Briefing: https://www.nice.org.uk/advice/mib271